AIVITA Biomedical is using its patient-specific vaccine platform to develop a rapidly scalable vaccine for the novel coronavirus, SARS-CoV-2. AIVITA's personalized vaccine takes the recipient's own immune dendritic cells and loads them with multiple SARS-CoV-2 antigens. The resulting treatment is designed to create adaptive immunity against COVID-19 in the recipient.
AIVITA's patient-specific vaccine platform has been used to create treatments for multiple areas of cancer, with promising safety and efficacy reported to date.
AV-COVID-19 is a patient-specific dendritic cell vaccine. It consists of peripheral blood monocyte-derived dendritic cells, which are extracted from a blood sample from the patient. These cells are loaded ex-vivo with multiple SARS-CoV-2 spike proteins associated with binding and infectivity, and nucleocapsid protein, which is retained and stable across various strains. The antigen-loaded dendritic cells are administered to the patient through a subcutaneous injection, with the purpose of creating adaptive immunity against the SARS-CoV-2 virus.
In a preclinical study, AIVITA observed multiple SARS-CoV-2 antigens reacting with natural immunoglobulins from COVID-19 convalescent patient serum, demonstrating them to be suitable immune targets for SARS-CoV-2 vaccine production. It was also observed that there was no damage during vaccine production when these antigens were loaded onto the dendritic cells. Importantly, these antigen-loaded dendritic cells mounted an immune response in lymphocytes from the same patient, showing immune activation from the vaccine.
A key benefit of AIVITA's approach is its potential for rapid scalability and mass distribution. Given the right tools, any one of thousands of suitable laboratory settings nationwide, or worldwide, could manufacture the patient-specific vaccine using AIVITA's proprietary reagents.
AIVITA adapts highly efficient proprietary for obtaining autologous dendritic cells in its cancer vaccine trials. Dendritic cell-based treatments have been widely studied in the clinical settings, showing strong safety and antigen-specific efficacy for creating an adaptive immune response.
Each AV-COVID-19 vaccine is personalized to the individual receiving it.
The process begins with a 50 ml blood draw
The blood is enriched for monocytes, a type of white blood cell that plays a role in innate immune response
The monocytes are differentiated into dendritic cells, an immune messenger cell
SARS-CoV-2 antigens are loaded onto the dendritic cells
Following testing and release, the vaccine is shipped to the patient site for administration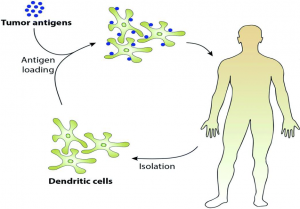 AIVITA's Phase 1/2 clinical study will evaluate AV-COVID-19's safety and efficacy, as measured by SARS-CoV-2-specific immune responses in blood at 1, 2, 3, 12 and 24 weeks. AIVITA intends to enroll 180 healthy participants with no documented COVID-19 infection or evidence of antibodies to the SARS-CoV-2 antigens. With existing safety data from studies of its patient-specific vaccine platform in cancer, AIVITA will begin with an adaptive Phase 1/2 trial to confirm safety, then move directly to evaluation of optimum dose and confirmation of SARS-CoV-2 antibody production.
The trial will test three different doses of SARS-CoV-2 antigen, with two different doses of GM-CSF as an adjuvant or without GM-CSF. The major endpoints are safety and measurement of SARS-CoV-2-specific immune responses. For more details and status updates for our trial, please visit clinicaltrials.gov: NCT04386252