AIVITA Biomedical is using its patient-specific vaccine platform to develop a rapidly scalable vaccine candidate, AV-COVID-19, for the novel coronavirus (SARS-CoV-2). AIVITA's personalized vaccine begins with a basic blood draw, from which the recipient's own immune cells are extracted and loaded with SARS-CoV-2 antigen. The resulting personalized treatment is designed to create adaptive immunity against COVID-19.
AIVITA's patient-specific vaccine platform has been used to create treatments for multiple areas of cancer, with promising safety and efficacy reported to date.
AV-COVID-19 is a patient-specific dendritic cell vaccine that contains peripheral blood monocyte-derived dendritic cells, which are extracted from a blood sample from the recipient. These cells are loaded ex-vivo with SARS-CoV-2 spike protein associated with binding and infectivity. The antigen-loaded dendritic cells are administered to the recipient through a subcutaneous injection to the tissue just under the skin, with the purpose of creating adaptive immunity against the SARS-CoV-2 virus quickly without the common side effects of other vaccines associated with viral protein production in the blood (headache/fever/etc.) and administration via intramuscular injection (arm pain).
AIVITA is evaluating AV-COVID-19 in a 180-participant Phase 2 clinical study in Indonesia, following a successful a Phase 1 clinical study showing highly favorable safety and preliminary efficacy. In a preclinical study, AIVITA observed multiple SARS-CoV-2 antigens reacting with natural immunoglobulins from COVID-19 convalescent patient serum, demonstrating them to be suitable immune targets for SARS-CoV-2 vaccine production. It was also observed that there was no damage during vaccine production when these antigens were loaded onto the dendritic cells. Importantly, these antigen-loaded dendritic cells mounted an immune response in lymphocytes from the same patient, showing immune activation from the vaccine. Vaccinated mice were also shown to produce antibodies and a cellular immune response very quickly, in a third party GLP setting.
A key benefit of AIVITA's approach is its potential for rapid scalability and mass distribution. Given the right tools, any one of thousands of minimally-equipped laboratory settings nationwide, or worldwide, could manufacture the patient-specific vaccine using AIVITA's proprietary reagents.
Dendritic cell-based treatments have been widely studied in the clinical setting, showing strong safety and antigen-specific efficacy for creating an adaptive immune response.
Each AV-COVID-19 vaccine is personalized to the individual receiving it, using equipment and methods widely available in clinics worldwide.
The process begins with a blood draw
The blood is enriched for monocytes, a type of white blood cell that plays a role in innate immune response
The monocytes are differentiated into dendritic cells, an immune messenger cell
SARS-CoV-2 antigens are loaded onto the dendritic cells
Following incubation, the vaccine is ready for administration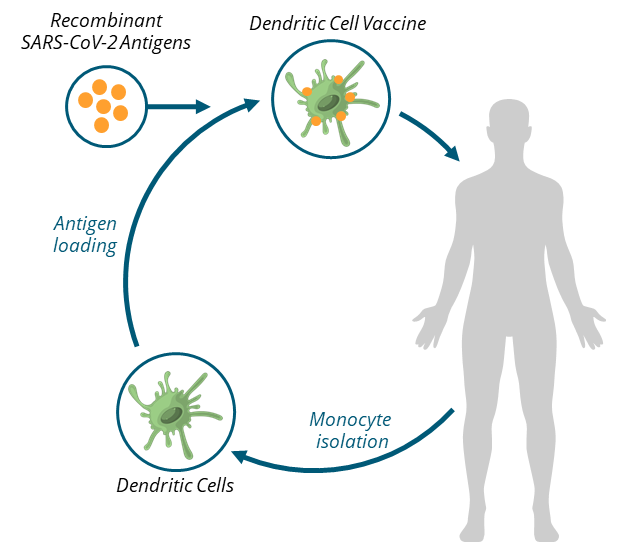 AIVITA Biomedical is advancing a clinical program for AV-COVID-19 in Indonesia in collaboration with the Indonesia Ministry of Health, known locally as Vaksin Nusantara.
Phase 1 (Indonesia): NCT04690387
Phase 1/2 (US): NCT04386252
Phase 2 (Indonesia): NCT05007496